The Guangzhou Ballet will return to the David H. Koch Theater at Lincoln Center with two exciting ballet productions, "Carmina Burana" and "Goddess of the Luo River" (August 17-18, 2019). Founded in 1993 by Zhang Dandan, a former dancer with the National Ballet of China, it is now helmed by general director and artistic director Zou Gang, who was a former company dancer. The classical ballet company, based in Guangzhou, China, boasts a wide repertory of large-scale dance operas and smaller programs, ranging from classical Western ballets to classical and contemporary Chinese ballets.

The Chinese legend, "Goddess of the River Luo," choreographed by Peter Quanz, dates back more than 1,800 years. There are several versions of this time-honored legend, so we will just have to wait and see how the ballet company interprets it. The original violin concerto by Du Mingxin was recomposed by Quanz,

Equally iconic in the West is "Carmina Burana" composed by Carl Orff and choreographed for the company by Jiang Qi. "Carmina Burana," Latin for "Songs from Benediktbeuren," is named for the Benedictine monastery in Bavaria, Germany, where the manuscript of 254 poems and dramatic texts from the 11th to 13th century were discovered in 1803. They were written by mostly anonymous traveling clergy (generally young students), primarily in Medieval Latin, the language of the time, and satirized the Catholic Church. They are housed in the Bavarian State Library in Munich. Orff set 24 of these poems to music in 1936. It is considered a masterful integration of Medieval poetry and music, which is still performed and admired today.

Jiang, a guest choreographer for the Guangzhou Ballet, is also a professor of ballet at the College-Conservatory of Music at the University of Cincinnati (Ohio). Via email, he kindly responded to my questions about the creation of his 65-minute-long "Carmina Burana" for the company. The Q&A has been edited and condensed for clarity.

Q. How did you decide to choreograph a contemporary version of "Carmina Burana"?
A. Carl Orff 's composition of "Carmina Burana" is a very well-known musical work performed by many of the greatest orchestras around the world. There have also been some choreographers before me who have used the work to create ballets. I have always loved the powerful music and imaginative poetry. When Zou Gang, the director of Guangzhou Ballet of China, asked me to create a ballet that is very different from any other ballets the company has performed, I thought about this work. Mr. Zou also loved the music, so a few months later, the ballet was created especially for the talented young dancers.

Q. How have you integrated the poetry and music?
A. I was inspired by the poetry and music, but my choreography is not a word-for-word and note-for-note interpretation of the poetry and music. It is a recreation of my understanding and impressions.

Q. Did you use Carl Orff?s 24 poems that he set to music in 1936?
A. Yes, I used all 24 poems. The songs are in a language I do not know. But I read the translations in English and Chinese.

Q. Does the ballet tell a unified story, or are they vignettes for each poem?
A. How can I describe my work? It's like a jewel necklace made from beautiful individual stones but also linked together.

Q. How many dancers are in the company?
A. The Guangzhou Ballet of China is a large ballet company, but for this production of "Carmina Burana" we only used about 22-24 dancers.

Q. Will there be a live orchestra or recorded music?
A. We use a recording. We had special permission from Naxos of America, Inc., to use the assigned music recording.

Q. How do you decide which Western works to choreograph?
A. I choreograph based on the music that I really love or a theme that really inspires me, either Western or Eastern.

Q. How does this work bridge the gap between Western and Eastern cultures?
A. The poetry and composition are representations of Western culture but also have an interior common philosophy, which resonates with Chinese audiences, especially when performed by Chinese ballet dancers.
The Guangzhou Ballet in Jiang Qi's "Carmina Burana".
Photo © & courtesy of Photographer Unknown
---
The Guangzhou Ballet in Jiang Qi's "Carmina Burana".
Photo © & courtesy of Photographer Unknown
---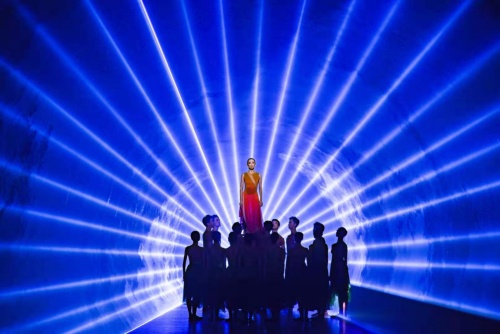 The Guangzhou Ballet in Jiang Qi's "Carmina Burana".
Photo © & courtesy of Photographer Unknown
---
The Guangzhou Ballet in Jiang Qi's "Carmina Burana".
Photo © & courtesy of Photographer Unknown