Elisa Monte and Jennifer Muller are choreographic forces of nature. They are the artistic directors of their own dance companies, Elisa Monte Dance and Jennifer Muller/The Works, which have been wowing audiences since 1981 and 1975, respectively. For three performances, from June 20 to 22, the two artists teamed up for a shared program, bookended by Muller's world premiere of "Grass" and concluding with excerpts from a Muller classic, "Speeds" from 1974. In between, Monte presented three works from her wide repertoire.

The impetus for the joint venture originated with Muller. "I decided I wanted to do a collaboration to try out a new model for how to put out a season," explained Muller in a phone interview. "I approached Elisa, and she decided to join."

Muller also wanted to pair "Grass," her newest, with "Speeds," her oldest, which she is reviving and which pre-dates the formation of her company by a year.

"Grass" is inspired by Walt Whitman's poetry collection "Leaves of Grass," a hefty tome that he continuously worked on, revised and added to until his death in 1892. It exalted the body and the material world, praised nature and the individual's role in it.

The stage is carpeted with artificial turf. Composer/cellist Julia Kent is downstage on our right. A lone dancer, Gen Hashimoto, enters. His movements, on or close to the floor, body tense, arms reaching outward, express angst, longing. Other dancers arrive piecemeal, perform similar movements alone or in various pairings, until the full company of nine (five women and four men) is on stage. They dance solos, duets, in groups; they exit and reenter. The movements are at times flowing and lyrical, at times taut and constrained, but no matter how they try, they still cannot connect with each other. The driving force of the cello music, masterly played by Kent, reflects their emotional distance—or enhances it.

The program notes say, "The characters, initially separated by assumed differences and dissonant within the natural world, are drawn together by a common need for comfort and the surprising gift of compassion." I told Muller that for me, the overall feeling was sadness, not comfort or compassion. She acknowledged, "I never got to the celebratory moment of it, right? There are years I feel very celebratory, years that I am not, years I'm interested in resolution of conflict, years I am interested in personal transformation. Whether I recognize that or not, the work comes out of what I am experiencing, what I see around me. Walt Whitman does have a sense of celebration, and I thought by the end I could bring the people together and there would be a sense of unity and celebration, but I wasn't feeling it, you know what I mean? I wasn't feeling that our society is in that place, that I could express that right now."

But, she continued, "I think it's infinitely important to get there, to get over our differences, to understand the tremendous reliance and need for each other. If I did something false at the end, whoopee do-da, we're all together in this, it was going to read corny. I didn't want it to go there."

Her two choreographies are "worlds apart," she said. "Speeds" is youthful vibrancy, playfulness and a celebration of life and the body, with original music by Burt Alcantara, a pioneer in computer-generated music. It is based on changes of velocities and directions, with a different dancer taking a turn at calling out the "Change." There is also one brief section of exquisite silence, as a soloist squats and holds her position in profile. The choreography is masterful, as are the nine dancers.

Monte's 2012 "Unstable Ground" strives to capture our current environmental and economic instability. The dancers roll towards each other. There are many lifts, pairings, clinging, moving in a jumbled heap. The original music by Lois Vierk is chaotic, loud, brassy. But through their shared sense of despair, the dancers find dependency and hope, unlike in "Grass," but it still feels tenuous.

"Shattered" from 2000 is a strong physical piece for the eight company members (five women, three men), dressed in beige/grays. Occasional bolts of light, accompanied by an ear-splitting crashing sound, signal a renewed surge of movement energy breaking out onto the full stage. Michael Gordon's music is powerful, and the dancers are uniformly gifted.

Inspired by the photos of Roy Volkmann, "Volkmann Suite" from 1996 is a topless tour de force for Clymene Baugher, Riccardo Battaglia and Prentice Whitlow. They dance as a trio, the two men also partner and each dances with the rail-thin, light-as-a-feather Baugher, who possesses great physical power in her delicacy. The final duet, performed by Whitlow and Baugher, is a portrait of gymnastic deftness, with strong lifts, dips, spirals, twists, slithering and sensuality.

Muller was very pleased with the program. "We are two women who come from a similar generation with shared sensibilities," she said. "We both like full-bodied movement and have a dancing mentality. We both have lasted and persevered this long in the dance world and have toured a great deal internationally. We also have different approaches that make our work very unique to each of us."


---
Also see the review of Monte/Muller Move! by Robert Abrams
Volkmann Suite
Choreography by Elisa Monte
Photo © & courtesy of Matthew Murphy
---
Volkmann Suite
Choreography by Elisa Monte
Photo © & courtesy of Matthew Murphy
---
Volkmann Suite
Choreography by Elisa Monte
Photo © & courtesy of Matthew Murphy
---
Volkmann Suite
Choreography by Elisa Monte
Photo © & courtesy of Matthew Murphy
---
Unstable Ground
Choreography by Elisa Monte
Photo © & courtesy of Matthew Murphy
---
Unstable Ground
Choreography by Elisa Monte
Photo © & courtesy of Matthew Murphy
---
Unstable Ground
Choreography by Elisa Monte
Photo © & courtesy of Matthew Murphy
---
Shattered
Presented in Bryant Park, 2011
Choreography by Elisa Monte
Photo © & courtesy of Constanza Alvarez Hernandez
---
Shattered
Presented in Bryant Park, 2011
Choreography by Elisa Monte
Photo © & courtesy of Constanza Alvarez Hernandez
---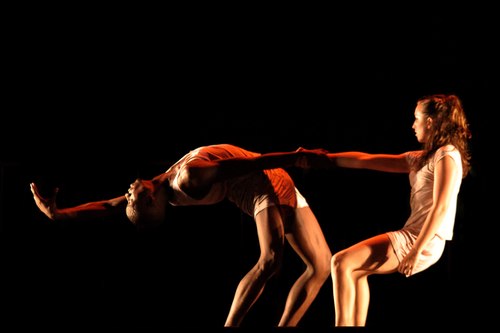 Shattered
Presented in Bryant Park, 2011
Choreography by Elisa Monte
Photo © & courtesy of Darial Sneed
---
Shattered
Presented in Bryant Park, 2011
Choreography by Elisa Monte
Photo © & courtesy of Darial Sneed
---
Shattered
Presented in Bryant Park, 2011
Choreography by Elisa Monte
Photo © & courtesy of Darial Sneed
---
Shattered
Presented in Bryant Park, 2011
Choreography by Elisa Monte
Photo © & courtesy of Darial Sneed
---
Grass
Dancer: Olivia Jordan with Composer/Cellist Julia Kent
Choreography by Jennifer Muller
Photo © & courtesy of Carol Rosegg
---
Grass
Dancers: Rosie Lani Fiedelman with Chellamar Bernard
Choreography by Jennifer Muller
Photo © & courtesy of Carol Rosegg
---
Grass
Dancer: Gen Hashimoto with Composer/Cellist Julia Kent
Choreography by Jennifer Muller
Photo © & courtesy of Carol Rosegg
---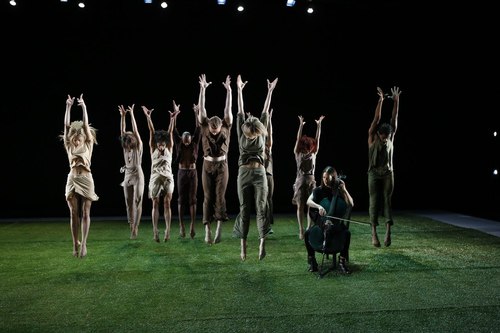 Grass
Dancers: Company with Composer/Cellist Julia Kent
Choreography by Jennifer Muller
Photo © & courtesy of Carol Rosegg
---
Grass
Dancers: (back) Olivia Jordan, Michael Tomlinson, Duane Gosa and Caroline Kehoe
Choreography by Jennifer Muller
Photo © & courtesy of Carol Rosegg