The combined Muller/Monte show opened with a world premiere of Jennifer Muller's Grass. Grass is danced on a stage covered by a large carpet of astroturf or an equivalent. It gave modern dance a novel frame.

What wasn't novel was the high quality of The Works' dancing. New company member (or at least new to me) Duane Gosa was strong on one foot, demonstrating the fluid repose that is a characteristic of The Works: a well held shape marked in the middle of a motion. Another newcomer, Chellamar Bernard, partnered with Muller veteran Rosie Lani Fiedelman. Their partnering was exceptional, with no wasted motion. They danced with a continuous attack that was a pleasure to see.

One notable choreographic moment occurred towards the end. Dancers in a large group of nine dancers were connected arms on shoulders. The work had many small groups and solos punctuated by energetic large groups.

The sound was as lush as the grass. It was loudly, but appropriately, amplified. The problem was that the cello was being played live, but because of the way it was amplified, the sound seemed almost recorded, and part of the sound wasn't from the cello, as far as I could tell. I liked the music, but the disconnect between the live musician and the almost recorded feel of the sound was disconcerting. It was a minor issue, and one that would require a sound engineer to find a solution.

There were moments in Grass that felt narrative, but mostly it read abstract to me, including striving, reaching and a beautiful agony. Grass ended with Gen Hashimoto alone, as he was at the beginning, laying on the grass, gazing at the sky.

Make sure to go to a park at least once this summer and repose on the grass.

The artificial grass in Grass was a monumental novelty. I thought it was enough of a worthy experiment that Muller should choreograph more works for the new surface. And in the spirit of this combined show, she should invite other choreographers to set works on the grass. That way, audiences could get more grass dance, with less work for stage hands, who otherwise have to strike the floor after only one dance.

Next on the program was Unstable Ground by Elisa Monte (premiered 2012). It began with groundwork. The dancers wore really cool tights with a sedimentary, swirling river-like pattern, a river of rock, punctuated with red. The movement was slow and powerful, like geological time. Earthy. Viscous. As the lighting brightened, the movement became faster, now like lava. The music was thick too. In all, a dance with unity.

Shattered, by Elisa Monte, had its premiere in 2000. I wasn't getting a unity on this one.

There was a fist in mouth gesture that was dramatic, but the meaning wasn't clear to me.

In the middle of Shattered, I noticed how beautiful the stage lights hanging from the ceiling themselves looked, but it probably wasn't a good sign that I noticed the lights in the middle of the dance.

There were moments I liked. For instance, I thought a twisty move in a group of six was very nice.

Ah well. Not every dance is going to thrill everyone. There was enough there that I did like, though, that I would see it again and give it a second chance.

Volkmann Suite, which premiered in 1996, by Elisa Monte, tastefully pushed boundaries. Clymene Baugher, Riccardo Battaglia and Prentice Witlow all danced topless with black shorts. Volkmann Suite was about the dance, so much so that I didn't notice Ms. Baugher was topless until a few minutes in. The nudity was so unremarkable that I might have not mentioned it, except that it is a critic's responsibility to let readers know what to expect on sensitive matters so they can make an informed choice about whether to see the show. The dance would have worked just as well with tops, and the press photos of Volkmann Suite include tops.

Volkmann Suite featured elegant partnering. It was stately, like a court dance, but with less clothes and more rolling cirque-like interlocked combinations of dancers. Cirque isn't quite the right word. The right shape, perhaps, but more formal. The dancers possessed a quiet confidence.

There were a few moments where the effort of the dance was a little too visible, but that's like someone who flies too often complaining about first class seating. I have seen Nrityagram numerous times, so I have developed impossibly high standards.

There was a point in the dance where a black man and a white woman were embracing. This was also thoroughly unremarkable, at least in New York City.

Volkmann Suite ended with a man arched on the ground, and the woman standing on his chest, reaching forward for the sky. Volkmann Suite was a thoroughly beautiful work.

The combined program ended with the oldest work, Speeds, by Jennifer Muller, which was premiered in 1974. The company walked on in white suits in silence, in a line. Nine dancers strutted, then quickly. The silence was sometimes replaced by funky electronic music. There was a jauntiness, which was in line with the music. In an extended section, one dancer would say "change", and the movement would change. There were some silly turnips (Turnips is my short hand for running energetically in a circle. Don't ask, it just is.) A woman in a large white hat entered, knelt, and stayed perfectly still for a long time. A hug. An arm extended backward. Speeds was very experimental and fun. It should be noted that this presentation of Speeds was a series of several excerpts of the full work. It worked well enough as excerpts, but I would look forward to reviewing the full dance as well.

The combination of Jennifer Muller and Elisa Monte was a worthy and successful effort that should be repeated. The choreographies worked well together in a mixed program, and I think multi-company presentations can help deepen audiences. When they come together next, the one thing they should add is a work featuring all of the dancers from both companies. If they don't have time to choreograph and rehearse such a work, they should consider a mixed-company pairs Jack and Jill in any style of their choice.


---
Also see the review of Monte/Muller Move! by Bonnie Rosenstock
Volkmann Suite
Choreography by Elisa Monte
Photo © & courtesy of Matthew Murphy
---
Volkmann Suite
Choreography by Elisa Monte
Photo © & courtesy of Matthew Murphy
---
Volkmann Suite
Choreography by Elisa Monte
Photo © & courtesy of Matthew Murphy
---
Volkmann Suite
Choreography by Elisa Monte
Photo © & courtesy of Matthew Murphy
---
Unstable Ground
Choreography by Elisa Monte
Photo © & courtesy of Matthew Murphy
---
Unstable Ground
Choreography by Elisa Monte
Photo © & courtesy of Matthew Murphy
---
Unstable Ground
Choreography by Elisa Monte
Photo © & courtesy of Matthew Murphy
---
Shattered
Presented in Bryant Park, 2011
Choreography by Elisa Monte
Photo © & courtesy of Constanza Alvarez Hernandez
---
Shattered
Presented in Bryant Park, 2011
Choreography by Elisa Monte
Photo © & courtesy of Constanza Alvarez Hernandez
---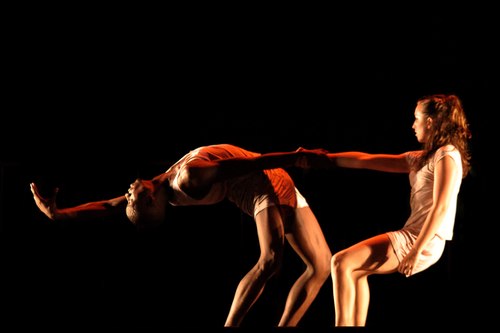 Shattered
Presented in Bryant Park, 2011
Choreography by Elisa Monte
Photo © & courtesy of Darial Sneed
---
Shattered
Presented in Bryant Park, 2011
Choreography by Elisa Monte
Photo © & courtesy of Darial Sneed
---
Shattered
Presented in Bryant Park, 2011
Choreography by Elisa Monte
Photo © & courtesy of Darial Sneed
---
Shattered
Presented in Bryant Park, 2011
Choreography by Elisa Monte
Photo © & courtesy of Darial Sneed
---
Grass
Dancer: Olivia Jordan with Composer/Cellist Julia Kent
Choreography by Jennifer Muller
Photo © & courtesy of Carol Rosegg
---
Grass
Dancers: Rosie Lani Fiedelman with Chellamar Bernard
Choreography by Jennifer Muller
Photo © & courtesy of Carol Rosegg
---
Grass
Dancer: Gen Hashimoto with Composer/Cellist Julia Kent
Choreography by Jennifer Muller
Photo © & courtesy of Carol Rosegg
---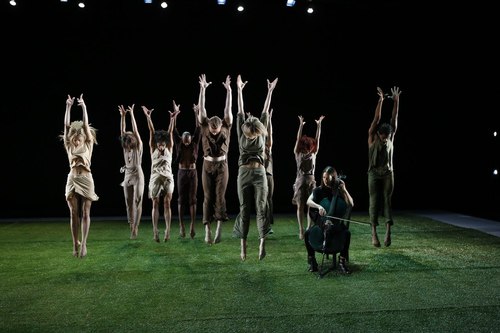 Grass
Dancers: Company with Composer/Cellist Julia Kent
Choreography by Jennifer Muller
Photo © & courtesy of Carol Rosegg
---
Grass
Dancers: (back) Olivia Jordan, Michael Tomlinson, Duane Gosa and Caroline Kehoe
Choreography by Jennifer Muller
Photo © & courtesy of Carol Rosegg