Broadway in Indianapolis' Waitress, the Musical, Serves up a Standing Ovation brought a full-house audience to its feet, April 23 at Indianapolis' Murat Theatre. After a succession of show-stopping applause interludes, particularly for Jenna's soliloquy, "She Used to Be Mine," it is clear how deeply this show resonates with real-time experiences. Coming from an abusive family. going into an abusive marriage, what does it take to recognize something is wrong with this picture? The path to Jenna's recognition of her power for life-change comes to us through a fully-dimensional setting that embraces both physical space and the people in her life. People and place are entwined—the hold of the past filters in through flashbacks—the movie in our minds that shows the imprints for the next bad choice. In the midst of relationships we can recognize what has been destructive can be changed. Based on the 2007 motion picture by Adrienne Shelly, the musical's book by veteran screenwriter Jessie Nelson and the music and lyrics by Sara Bareilles, together mine the trajectory leading to Jenna's life-altering moment akin to Hamlet's "To be or not to be…":

Here, Jenna goes through her litany of fault lines, and the recognition that she has to stop that cycle of abuse for the sake of "the life inside her":

"Growing stronger each day 'til it finally reminds her

To fight just a little, to bring back the fire in her eyes

That's been gone, but used to be mine…"

Reclaiming lives is what we experience happening to a company of people on stage. Searching for the capacity to reclaim lives is what's being absorbed by people in the seats. Diane Paulus and Lorin Latarro, respectively as director and choreographer, shape the elements of dialogue, music and dance growing organically from who the characters are. We're screwed over and screwed up. Period. But it's not an indelible factor. We can't totally erase, but we can blot, and start over. We see this in the movement that's as important in moments of dialogue as it is with interludes of songs and instrumental music. Characters move within the depth and breadth their revelations.

Christine Dwyer embodies Jenna as a clearly accomplished pie baker. The entire cast earns mention for their investment in their roles. Annderson Goodnight and Allie Stacy are the locally chosen five-year olds who appear in the closing scene.

Applause too for the orchestration and the on-stage players, set design by Scott Pask, costumes by Suttirat Anne Larlarb, lighting by Ken Billington, altogether adding to a production with honesty of emotion and veracity of flow from moment to moment.

The quibbles in the performance I experienced on April 23 are with a sound design that killed clear articulation of lyrics [one audience member suggested lyrics this good should be projected as with opera], and with the lack of dimension for Earl, Jenna's abusive husband. As played, Earl comes across as the stereotypical bad choice—but there has to be something about him that lured Jenna into this marriage. Jenna allows us into why she gives into his fits of anger and why she gives him the money she earns so he can squander it on himself. She allows us into her definitive moment of "Get out." I'd like equal time for Earl to expose what allows him his choices in this relationship and ultimately to pilfer the money and run.

For their eighth collaboration with Broadway in Indianapolis, Sun King Brewery's brewmaster Dave Colt conjured up a banana-pie infused Ale, aptly named Ba-na-na-na, and with WFYI-public radio hosted a pie-baking and story-behind-the-pie contest at the Downtown Indianapolis brewery. Participants were invited to dream up a pie name and recipe, and submit a video telling judges the story behind their pie and the significance of its ingredients—significantly by 3-14 - National Pi Day. Six were chosen to vie for top honors at an event on April 18. First place for a combined high score in storytelling, pie naming and pie baking went to Jennifer Haan, with first runner-up to K.C. Chan-Brosse, and second runner up to Teresa Harris.

Colt describes Ba-Na-Na-Na (Do-Do-Do-Do-Do) as a Banana Cream Pie inspired German-style Hefeweizen. Bananas, toffee, and an entire banana cream pie were used in the brewing process, providing an additional twist to the flavors of banana and clove that come from the unique strain of ale yeast used in making the beer. A portion of the pint proceeds will benefit Second Helpings.

Waitress opened on Broadway in April 2016, gaining multiple nominations for awards, but in season dominated by Hamilton, the sole win was for best supporting actor for the role of Ogie. It's not hyperbole when the promo reads: "Don't miss this uplifting musical celebrating friendship, motherhood, and the magic of a well-made pie."
Christine Dwyer in the Tour of "Waitress".
Photo © & courtesy of Philicia Endelman
---
National Tour of "Waitress".
Photo © & courtesy of Philicia Endelman
---
Rheaume Crenshaw, Christine Dwyer and Steven Good in the National Tour of "Waitress".
Photo © & courtesy of Philicia Endelman
---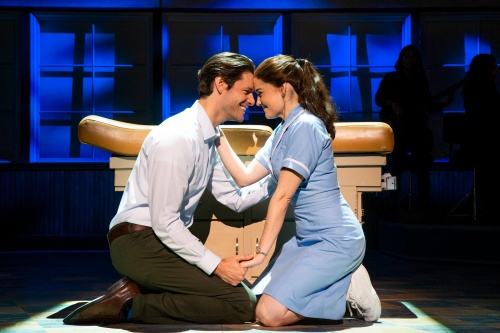 Steven Good and Christine Dwyer in the National Tour of "WAITRESS".
Photo © & courtesy of Philicia Endelman