Part of the Indianapolis Symphony Orchestra's Printing Partners Pops Series, Jack Everly conducted a richly nuanced showcase of Broadway musical male roles with Broadway star Ben Crawford taking a full-house audience, April 12 on a journey of character discovery in Broadway & Beyond. Crawford's view of human connectivity brings each song to its fullest essence as part of the context from which it was plucked. Clearly articulating text, Crawford transcends 'front and center presentation,' stitching movement onto the fabric—the woof and warp of person/story; singular moment-in-context with; spotlight-within surround space. He moves dimensionally with the story, clarity of articulation with musicality in unity.

The portrayal of Lancelot, whose preceding boastfulness and preening had turned Guinevere against him, shows another aspect of his soul with "If Ever I Would Leave You," a soliloquy fraught with the unhinging of loyalty and love; greater good and personal gain. Crawford brings something both ethereal and eternal to this sorting out, this struggle to be right, do right, questioning what is right, parsing 'question' into 'quest' —the reason he came to Camelot to serve loyally with King Arthur—to be part of this uplifting 'quest.'

We in the audience are drawn into Lancelot's weighing—'to be, or not to be' incarnate. The fate of this wondrously humane world order hovers over Lancelot who, in this moment inherits the essence of Merlin, seeing future and past at the fulcrum of present.

How does a division of mind, voice, heart cipher into equitable unity? Crawford's stillness at this inhale is like that magical blink between between night and dawn when the cock's crow shatters quietude into bustle of light-invoking activity. We know what will happen if/when; we know this blissful quietude will erupt into battle; Camelot recalled as but one shining moment by but one child-witness. The power of one is, in truth, caught within the web of another's spinning-thread: Mordred's unflinching hatred.

At Lancelot's intoning "Oh, no!" Crawford let's us feel the weighing as acutely here, as with his equally masterful moment in Billy's Carousel Soliloquy, where the realization unfolds …"What if He…is a She…" Full beat silence.

Assuredly, everyone else in the audience on April 12 had a favorite, because indeed Crawford favored with a bouquet of 'leading men moments' foreshadowed by the fulsome "Broadway Leading Men Overture" delivered by the ISO players.

Well-paced tableaus throughout the concert carried us into the well-made stories that endure on Broadway and Beyond. Crawford's upbeat opening number, "Let's Face the Music and Dance," glyphed a suave Fred Astaire. Closing with Company's signature "Being Alive," the trajectory of the program of fifteen numbers refracted a vision: "alone is alone, not alive."

Upcoming: ISO's "Symphony on The Prairie" runs June 1-September 7.

Information & Tickets at (317)639-4300 or indianapolissymphony.org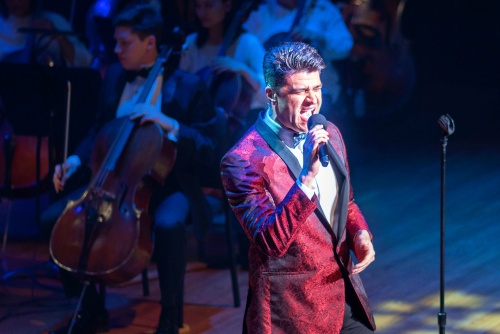 Singer Ben Crawford with the Indianapolis Symphony Orchestra in "Broadway & Beyond".
Photo © & courtesy of Nick Shotwell
---
Singer Ben Crawford with the Indianapolis Symphony Orchestra in "Broadway & Beyond".
Photo © & courtesy of Nick Shotwell