Netherlands Dance Theater's spring season program Second Nature this past March opened with associate choreographer Crystal Pite's ballet "Solo Echo" (2012) on sonatas by Brahms for cello and piano, which evoked a feeling of wintry melancholy. The ballet was inspired by the poem "Lines for Winter" by Mark Strand.

In it, against a backdrop of whirling snowflakes NDT's soloists joined together one by one, coming all from the right at high speed, which created immediate beauty. Their large movements were driven by the music. In the duets, slow movements alternated with speedy ones and large jumps. The dancers'angular arms moved fiercely throughout the piece. In between dancer duets they formed a group line-up, and then one by one collapsed, connected together in breathtaking harmony.

The ballet's seven dancers kept coming back in different line-ups, from small to large, only once did they all connect together as in Henri Matisse's 1910 painting "La Danse". The precision, speed and flexibility Pite demands in this wonderful choreography was revealed in an extraordinary way by these great dancers and gave this ballet its beauty and poetic quality.

Next came a reprise of choreographers Sharon Eyal and Gai Behar's 2015 work, "Bedroom Folk" created in collaboration with musician Ori Lichtik and designer Thierry Dreyfus.

The ballet for four men and four women had strong group movements but was of a different mood than Pite's "Solo Echo" - softer and sexier with more individual dancing.

NDT's Sebastian Kristensen Haynes performed a stunning solo with long stretched moves; what a facility!

When the group moved through space in unison, there were often four women in front and right behind them four men. They moved as a unit about the stage. The music for the work was a very fast and rhythmic composition in which the dancers stayed in tune with performing their staccato movements. The dancing then became wilder and looked more like a ritual. At the end of the ballet the four ladies did the same steps, arm in arm, with a nod to the famous "Dance of the Little Swans" from the ballet Swan Lake. Again, great admiration for these terrific dancers!

At the premiere of "Bedroom Folk" in 2015 NDT dancer Marne van Opstal had a leading role. In this program he was asked to make his first choreographic work for NDT together with his sister Imre van Opstal, an ex-NDT dancer now with Israel's Batsheva Dance Company.

Their ballet, "Take Root" was set to a composition by Amos Ben-Tal (another ex-NDT dancer) and included musical fragments of the cello suites of Bach.

It began with a partially nude female dancer deeply breathing in and out, with her chest held forward and shoulders raised high, standing in a very uncomfortable position. This image typified the ballet, which was about vulnerability and discomfort.

Seven dancers then joined her; they all ran to a white stage backdrop and did handstands except for one. Street sounds are heard and a car alarm. We see male dancers moving like kicking gamecocks. A female dancer sits on the back of a male dancer, who is creeping along the stage floor. She shutters and twists her shoulders and torso as if she is suffocating. Another female dancer cries and is comforted by two male dancers. The rest of the dancers then ran across the stage and destroyed the white backdrop. A new backdrop with the romantic painting of a forest then appeared and while we heard Bach, there was no suggested harmony and chaos took over.

At the end of the ballet dancer Lea Ved was lifted and carried around on the shoulders of her partner Mr. Haynes. Then he held her in his arms and walked her around creating a piëta-like image. She showed no resistance and was limp in his arms.

Where the program's first two ballets struck me with their virtuoso and melodic character, "Take Root" was the opposite. It showed guts however for Marne van Opstal to create a ballet that expressed deep emotions and made one feel uncomfortable. In that he succeeded and NDT's dancers executed his difficult ideas for it marvelously.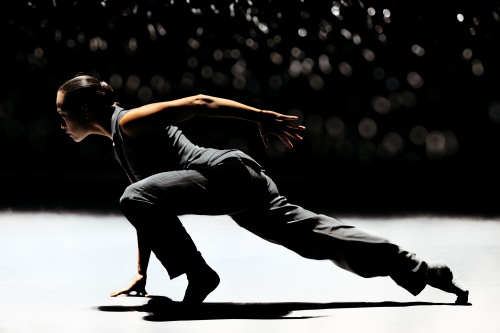 Crystal Pite's "Solo Echo".
Photo © & courtesy of Rahi Rezvani
---
Crystal Pite's "Solo Echo".
Photo © & courtesy of Rahi Rezvani
---
Sharon Eyal and Gai Behar's "Bedroom Folk".
Photo © & courtesy of Rahi Rezvani
---
Marne van Opstal and Imre van Opstal's "Take Root".
Photo © & courtesy of Rahi Rezvani
---
Marne van Opstal and Imre van Opstal's "Take Root".
Photo © & courtesy of Rahi Rezvani
---
Marne van Opstal and Imre van Opstal's "Take Root".
Photo © & courtesy of Rahi Rezvani