Compañía Irene Rodríguez, created in 2012 with Rodríguez as director, principle dancer and choreographer, was the third and final act of the Cuba Festival (January 9-20), presented at The Joyce Theater, January 18-20. All three, including Malpaso Dance Company, which I reviewed, and Los Hijos del Director, which I didn't have an opportunity to see, are from Havana, which is becoming quite a vibrant dance capital. What sets Rodríguez's company apart, however, is that her choreography is steeped in the art of flamenco but also draws from contemporary and Afro-Cuban dance. As she has said, "I am focused on creating new trends that make the Spanish genre evolve, fusing it with everything that will extend the stage language." Thus, the title of her Joyce offering, "Más Que Flamenco," or More than Flamenco, featured a program of short works that were both more and less than exhilarating.

The 90-minute program on January 18 was divided into Act I and Act II, with nine segments, including several highlighting the five skilled musicians and one terrific cantaor (singer). Rodríguez started off with her crowd-pleasing "El Mito" (The Myth) (NY Premiere). With the curtain raised only enough to show the dancers up to their knees, they were poetry in synchronized motion. The dancers performed flamenco footwork patterns, shifting directions and speed to a dizzying effect, resembling a fantastical stand of moving trees. The company dancers wore thick black heels, while it was obvious that Rodríguez was in charge in white heels and driving them on. At the end, Rodríguez was hauled up out of sight, and a few beats later, her shoes dropped down.

One of the Company's four women dancers, Mara de Armas, choreographed and performed in the tepid, passionless flamenco/contemporary "Locura y Cordura," (U.S. Premiere), which was neither Madness (and) or Sanity, but a generic love triangle with the Company's two male dancers, the sleek, slender Emilio Batista and Yoan García. First, one of the men entered the stage, danced with Armas, then exited. Then the other entered the stage, danced with Armas and exited, and repeat. She danced a bit with each, the men soloed in some kind of unconvincing dueling dance competition, all three danced together. I lost interest.

"La Pena Negra" (Black Sorrow) (NY Premiere), was inspired by the poem "Romance de la Pena Negra" by Federico García Lorca. Rodríguez wore a layered black dress with a train that looked like a feathered bird. Her slow arms reached behind her for an astounding deep back bend. Her train kicked up a lot of stage dust as she whipped it around masterfully and to frame the other performers, forming a lovely tableau. She also used it to frame her strong, powerful body. The dancers' stamping were strong, the musicians' clapping intense.

Act II commenced with "Zapateo" (flamenco footwork), for the full company, which featured flamenco, contemporary dance and jazz elements provided by the musicians. There was an intense series of taconeo (flamenco tapping), but with not much variation or degree of difficulty as I've come to enjoy from other Spanish bailaoras (flamenco dancers). Rodríguez and dancers redeemed themselves with fabulous fan work in "Entre Espinas Rosas" (Between Rose Thorns). "Encontra2" (Against2) (NY Premiere), choreographed by Victor Basilio for the company, featured a dance off between the two male dancers, who were good but not in the company of the great. The choreography had contemporary elements, with a variety of movement patterns across the stage.

For the finale, Rodríguez's solo "Amaranto" (Amaranth) (U.S. Premiere) proved her mettle as a first-rate performer. She made an art out of her flying black shawl. She whipped it over, under, around, one-armed, two-armed, like a matador facing off an oncoming bull. She held nothing back, even emitting those Monica Seles grunts/screeches to punctuate her intensity. Rodríguez is a beautiful dancer in form, face and figure. She has a repertoire of flamenco movements that aren't as complex or varied as I've seen and her arm work isn't stellar. But she is charismatic and relates to the audience, who love her, and she loves them back.
Photo © & courtesy of Photographer Unknown
---
Photo © & courtesy of Photographer Unknown
---
Photo © & courtesy of Photographer Unknown
---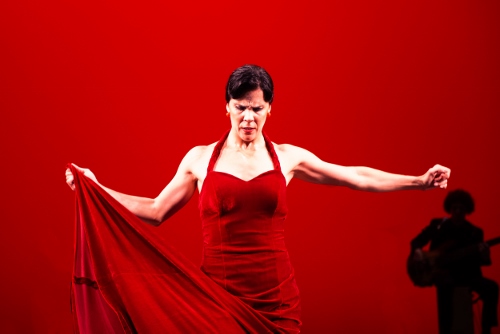 Photo © & courtesy of Photographer Unknown