Uruguayan-born New York-based Polly Ferman, speaking as producer and musician for GlamourTango, took to the stage just before the show to address the audience. "At this time in my life, I want to give homage to women," she said. "I think we should always keep what we are—strong and sensitive." She went on to say that at one time tango was forbidden for women except in bordellos, and she promised, "The history of women in tango and the culture is going to be addressed today." And indeed it was, in this extraordinary all-women show featuring four talented musicians, five accomplished dancers and an exceptional singer.

The well-crafted one-hour production (alas, for one-night only) accorded equal weight to the music, songs and dance form, which originated in the working class port neighborhoods of Buenos Aires, Argentina, and later in Montevideo, Uruguay's Rio de la Plata region. They were complemented by wall projections that flashed stills, videos or illustrations from various eras. One of them was a black and white photo of a seven-piece all-women's orchestra at the Café Palace from 1934. Another was a clip of a woman meticulously readying for a performance, with close ups of her making up her face.

The masterly musicians that accompanied the performers were Ferman on piano; Ina Paris, violin; Iris Ornig, double-bass; and Yael Acher "Kat" Modiano, flute. I could occasionally catch the lyrics, powerfully sung by Mariela Marco, who is from Rosario, Argentina. But even without knowing a word, you know they had to be about love gone wrong, longing, passion and regret, or they wouldn't be tango.

The dance numbers were exceptional. All five women (Mariana Parma, Vidala Barboza, Romina Levin, Valeria Solomonoff and Karina Romeo), in gorgeous dresses, danced in various partnerings, which demonstrated those wonderfully twisty hip swivels, high leg kicks and flips and wraparounds to the body that are distinctive to the dance genre. There were several duets. A rather playful one, with a hint of conflict and Broadway, was done in men's clothing. Another featured long-legged ladies in form-fitting purple outfits in a tour de force performance. Two women in white unfurled a long white cloth and a handkerchief and danced more in the modern vein to the iconic "Alfonsina y el Mar" (1969), which paid homage to the tragic Argentine poet and writer Alfonsina Storni (1892-1938). The lyrics, composed by pianist Ariel Ramírez and writer Félix Luna, contain words from her last poem, "Voy a Dormir" ("I'm going to sleep"), which she sent to a newspaper shortly before committing suicide by throwing herself in the Mar del Plata.

If that wasn't enough tragedy, there was a heartbreaking solo, where love definitely went awry. The tall slender dancer was dressed in black pants, which had one leg slit showing a beige stocking and shoe. The other shoe was black. The two-sided outfit corresponded to the contentious relationship that she danced out as if she had a partner.

The encore was the "Cumparsita" ("The Little Parade"), one of tango's most popular and well-known songs. The lyrics end with … "and that companionable puppy, because of your absence did not eat. Seeing me alone, the other day it also left me." It was an unforgettable evening.
Photo © & courtesy of Robert Abrams
---
Photo © & courtesy of Robert Abrams
---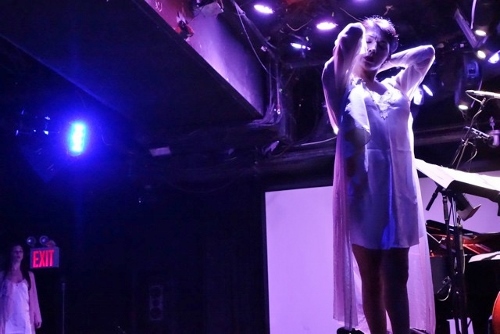 Photo © & courtesy of Robert Abrams
---
Photo © & courtesy of Robert Abrams