At first blush, it seems like what the spaghetti-thin models do on a catwalk and what muscular dancers do onstage are planets apart, but it turns out that they inhabit a neighboring universe, based on performance, body awareness, and training. In fact, some models are asked to dance as part of their presentation, and they work with choreographers.

At Fashion and Design week in Montreal, which is an unpretentious, upbeat, extended fashion event in a really cool city, several models shared with us the moves that make normally pacifistic audience members want to upend their wallets and dress to kill.

Tristan Ginger started out studying linguistics, and somehow morphed into being a model and then a show producer, working with other models.

"As a male model, you have to walk like a man," he said.

"Huh?" I asked the very funny and flamboyant gender-bending Ginger.

"Yes. Like a man, whatever that means. In modeling it means you can't swing your hips too much. And both feet have to be firmly planted. You must maintain a neutral face. In my show tonight, I'll be wearing high heels, like a supermodel. I'll also be swinging my hips and having fun. I tell the models in my show to do their fantasy of a runway walk, which can be serious and sexy or super sassy. My fantasy is Naomi Campbell, the way she walks, with one foot ahead of the other."

Kevin Geyson, a male model, says models take runway classes. "For high fashion, you have to be regal, stiff, with no movement of the hips and very little arm movement. They want you to have broad shoulders and be stiff and 'masculine.' It's more presentational than commercial. Commercial is fun, smiley, relaxed, more natural and less stiff. You are selling an attitude as much as you are selling clothes."

According to Geyson, instructors in the classes teach different styles, or gestures specific to a particular show or particular designer. "You always have to be aware of what you are wearing and how you are moving. Tonight I am doing Tristan's show and I will be wearing chains. If I move too much, I can break the chains."

Geyson said he started modeling late, when he was 25. He was an athlete before–specifically, a diver. "As a diver, it's about presentation. You must be strong and graceful. Diving is an artistic sport. So it was not really a hard transition for me. It's all about knowing your body and portraying a certain thing. In diving, you need to build up your upper body. For male modeling, it's more long and lean. In high fashion, male models are usually over six feet tall. There's also fitness modeling, where you need big muscles and definition and you have to be buff. It's more for pictures, and not the runway. I try to be lean and cut. If I get too big, I can't do high fashion."

Michelle McHugh is one of the most sought-after female models in Montreal, and with good reason. With her cocoa-brown skin (her parents are from Tobago) and elegant walk, she makes anything she is wearing look great. She says it helps to have an ethnic look, because "I can be Lebanese, Hawaiian or Latina as required. I'm not competition for the beautiful blonde girls."

She stumbled into modeling when she accompanied her friend to Model Search, and she, unexpectedly, made the first cut and got a callback. Her parents couldn't afford the costs, so modeling was put on the back burner. Then, Michelle was dropping off a meal at a birthday party, and her friend's aunt, an agent, noticed her and offered to take her under her wing. At first, totally green, Michelle copied other models, and watched how a model friend handled castings. "I learned that you represent a brand and you are that girl. They tell us that we are a dynamite girl or not too flirty, or that our head has to be held a little higher."

On the night of this interview, Michelle was modeling the collection of Roxanne Nikki, and "she wants it somber, subdued, more elegant. I never took a formal class. I do shows, photos, and showrooms for buyers."

In terms of her presentation, Michelle is 5'9" and weighs 126 pounds. "I have to be careful. I am vegetarian, almost vegan. I do Wake Boarding; it's all about balance."

For female models, Michelle explains, you need straight posture, a subdued face, and "most of the girls are walking hangers. You place one foot in front of the other, not much hip. I've been told during a casting, 'Can you do less hip?'"

Commercial, Michelle says, is happier, and more of a lifestyle, girl-in-the-street look and walk. "I like the happier ones—it's like…when you're out with a girlfriend. Each time you are a different character, and you have to play that. Acting really gets into a character, but we portray a character."

Michelle has done TV work in Quebec, and was in a French film. "I play a model that walks in, or eye candy for some guy."

Michelle's boyfriend is a choreographer, and he helps her with her movements. "I let the music take me away. I let it be inside of me. It will show."

When Michelle walked in the show that night, people whispered about how light she was on her feet. Friends or fans in the audience were screaming for her, and she broke out into a real, non-stagey smile.
Models dance on the small stage during Fashion and Design week.
Photo © & courtesy of Paul Ross
---
Kevin Geyson a regal, stiff walk for haute couture presentations.
Photo © & courtesy of Paul Ross
---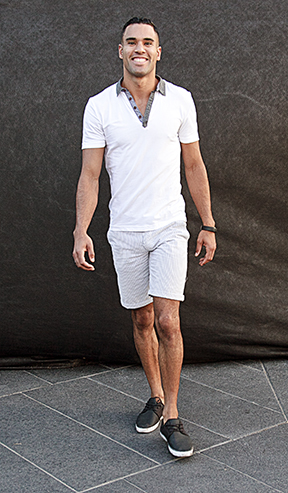 Kevin Geyson demonstrates a natural, commercial walk.
Photo © & courtesy of Paul Ross
---
Michelle McHugh demonstrates a subdued, elegant walk.
Photo © & courtesy of Paul Ross
---
Michelle McHugh portrays a character for modeling casual wear.
Photo © & courtesy of Paul Ross
---
Tristan Ginger shows the 'male' runway stride.
Photo © & courtesy of Paul Ross
---
Tristan Ginger pushes the boundaries in his show.
Photo © & courtesy of Paul Ross