After a three-year hiatus, the World Music Institute's 30th anniversary season reintroduced Festival Ay! Más Flamenco, which WMI's Artistic Director Par Neiburger declared, "represents the finest in quality that the art form has to offer." The four featured dancers "will spotlight a much-needed authenticity from some of Spain's finest performers who rarely perform in the U.S.—as well as show audiences the new and bold directions that flamenco is taking," he said.

In fact, only two acts were direct from Spain—the marvelous La Lupi and Joaquín Grilo. Dancer Sonia Olla and singer Ismael Fernández, the husband and wife duo that wowed audiences with "Tablao Sevilla," are living in New York. Montreal's La Otra Orilla (The Other Shore), represented "the new and bold," with mixed results.

In an email response to my questions, Myriam Allard, La Otra Orilla's dancer, choreographer and co-director, described the use of flamenco as a means to develop a concept and express ideas. "Sometimes we deconstruct to understand it better, sometimes we decide to put the focus on one element and follow that lead to see where that takes us," she said. "We don't decide in advance. Our work is free. We choose to open the flamenco aesthetic, borrowing from different languages and influences which give our work a hybrid look and feel."

Those influences include cinema and music. "I also love many different contemporary dance choreographers," she continued. "But I am moved, touched and influenced by anything that is genuine, connected, meaningful."

She characterized flamenco as "a free art, as all arts should be," and said that flamenco artists have always insisted on freedom. "Flamenco is a mature and rich art. And we work with that always in mind."

For the group's 10th anniversary "of original dance works, of sweet folly, of delightful daring and shared dreams," they presented "Moi&lesAutres" ("Me&theOthers"). Allard described the work as "audacious, a multidisciplinary work . . . about the solitude of beings and about connecting with the other, or conversely rejecting them. It is about finding one's place in a group, or not. . . ."

The members of the four-person ensemble have impressive individual resumes, yet didn't always seem to live up to it. Canadian-born guitarist and composer Caroline Planté's solos were plunk by the numbers and tedious, without verve or soul. Said Allard of Tunisian-born Hedi Graja, the co-artistic director, singer and director, "In Andalucía he found the perfect balance between both his cultures. [Tunisian father and French mother from Paris.] He is self-taught, as most cantaores." Although Graja has a strong, clear voice, it lacked the twang and guttural depths of pure cante. And percussionist Miguel Medina made some unjoyful noise, especially in a headache-inducing duet with Allard, who twitched to his drum banging.

The rail-thin Allard eschews the bailaora dress code and instead wore either tight pants with a striped top or simple sack dresses in which a small-fringed shawl was attached. The silvery foil- and moon-like crater set was open on the bottom, so you could watch her mid-calf legs, perched on clunky red or black heels, walk back and forth across the stage. Allard is an accomplished flamenco dancer and when she got lost in the moment, she was wonderful to watch, creating her own style within the form.

But then there were those sigh- (or why-) inducing moments: Graja and Medina in turn flinging Planté across the stage in a wheeled office chair while she played serenely but not too well. Then they had a mock sword fight. Then that interminable finale: A suspended light bulb (which seems to be a common theatrical device these days). Medina, dressed in a white suit, brings in his drum set. Bangs on drum. Allard twitches. Back light bulb. Graja, in long mustard-colored coat, reads from a bunch of papers, something about meditating on the condition of his soul. Planté enters in lovely petticoat dress. Jumps on Graja. Papers scatter about floor. She falls to floor. Repeat as needed. The piece ends with an old French recording of "Inoubliable" ("Unforgettable"), as the two couples slow dance around the stage.

Flamenco is constantly evolving and reinventing itself (not many, if any, bailaoras dance barefoot these days), from full-scale ballets with contemporary choreography; the introduction of Arabic rhythms by the groundbreaking duo Lole and Manuel in the 1970's; Nuevo Flamenco as epitomized by the iconic Camarón de la Isla, who sang to the strums of an electric bass; the beatbox (cajón) which guitarist Paco de Lucía brought back from Peru, for example.

Allard deconstructs flamenco and asks, "Are we more alone in a group than on our own? What does the passage of others in one's life bring? What stays? What dissolves?"

I ask, "Did it work?" "Moi&lesAutres" was a messy blend of interesting concepts and vapid, meaningless piffle. Or is that the point?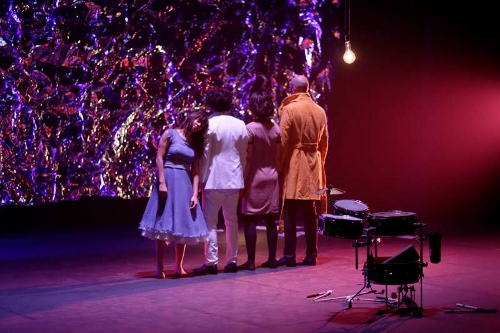 The Ensemble
---
[L-R] Miguel Medina, Hedi Graja and Caroline Planté (guitarist)
Photo © & courtesy of Levent Erutku
---
The Ensemble
Photo © & courtesy of Levent Erutku
---
Myriam Allard, co-artist director, choreographer and dancer.
Photo © & courtesy of Levent Erutku
---
Myriam Allard and Hedi Graja
Photo © & courtesy of Levent Erutku