There was a flurry of activity in the studio as the children from two levels changed into their leotards and sorted themselves out. They were color-coded: Ballet I for the seven- and eight-year-olds— girls in sunset coral leotards, white tights, hair pulled back in de rigueur dance bun and their three male classmates in black mid-thigh leotards and white tees—had class first. The early arrivals for Ballet II, the nine- to ten-year-olds, girls in turquoise leotards, exited to wait in the hallway.

The Ballet I students took their place on the dance floor, and the one hour and 30 minute lesson began. The pianist played, the teacher (usually there is one teacher and an assistant) gave directions for the warm-up and the 19 youngsters responded with focus and seriousness of purpose.

One girl in street clothes was sitting against the mirror facing the class, her arm in a sling. Diana Byer asked her, "How much longer?" The girl replied, "Two more weeks," as her feet in street shoes mimicked the seated exercises. "If you are serious, that's what you do," said Byer approvingly. "You have the responsibility to do the work. If you are not sick, you come to learn."

Byer is the artistic director of Ballet School NY (BSNY), which she founded in 1978 as the official training school of New York Theatre Ballet (NYTB). When I visited the studio on October 29, the school had barely settled into its new home on the second floor of the historic St. Mark's Church on East 10th Street. After 33 years at the parish house of the Madison Avenue Baptist Church on East 31st Street, they had to vacate their studio and office space because the building was slated to be razed. Thanks to New York City District 2 Council Member Rosie Mendez, who represents a swath of both geographic locations, they were apprised of the vacancy in the East Village.

The move entailed a two-month gut renovation of the former home of the black box theater for Incubator Arts Project, the experimental performance company, which closed in July (they decided not to renew their lease). Byer put down a Harlequin sprung dance floor and exposed all the ceiling lights. The five nearly floor-to-ceiling windows, including two stained glass windows with religious themes, bathe the studio in natural light. The back door opens out onto the well-tended church garden, where in warm weather the dancers and students can have lunch and relax. The exposed balcony will be closed off for storage. "We still have a lot to do," stated Byer. "Once we get everything built that has to be built, it will be fine. We were lucky we were able to open when we did. The studio itself is good. We are just waiting for a few more barres."

The school adheres to the Enrico Cecchetti syllabus, which emphasizes music, theatricality, gesture, purity of line and simplicity of style—dance as a total art form, with strong technical skill and discipline. "The hope is the students will come up through the school to join the Company," said Byer. For example, her principal dancer, Steven Melendez, has trained with her since age seven.

Byer teaches several of the children and adult classes as well as the Company, with guest teachers. "I love teaching," she said, "and when I can't do it anymore, I will stop."

Since most of the Company's dancers—five men and seven women—come from different backgrounds, they receive training in this specific method, "so they can't do their own style," Byer emphasized. It seems to be working, as Allan Kozinn of The New York Times called NYTB "a small but inventive and often feisty company."

The move will not alter the Company's current venue programming. They will continue to offer children's programs at Florence Gould Hall on East 59th Street, including the fourth annual presentation of Keith Michael's "The Nutcracker," December 19-21, as part of the "Once Upon a Ballet Series." In addition, they will present repertory works at the 92nd Street Y in January 2015 and at New York Live Arts on West 19th Street in February, retain their association with the New York Pops, an orchestra that performs at Carnegie Hall, and embark on two national tours.

Next June the Company will perform a repertory program in Danspace, sharing the awesome sanctuary (used as a performance space) with Danspace Project and the Poetry Project, also housed here. The "Dance on a Shoestring" series is not being relocated and takes place in NYTB's rehearsal space. "Dance on a Shoestring" is the popular and affordable community series which showcases ballets from NYTB's current season— works in progress by contemporary and emerging choreographers—and gives LIFT and other children studying at BSNY the opportunity to learn about production as well as gain performance experience. LIFT is NYTB's nationally recognized program for at-risk and homeless children. Based on auditions held in shelters and other locations, upwards of 30 children are awarded partial and full scholarships annually to the school.

"We are not just here creating ballets and works in progress, but our supporters and donors can see where we actually do the work," said Anna Kepe Haas, the financial/business executive director.

Children can audition throughout the year. NYTB is still accepting students for all levels, especially Pre+Ballet classes.

Marianne Morgan, who lives in the East 30s, has been taking classes for almost three years. Her mother Stacy said, "We enjoyed the school so much, we are making the trek down. We have to be in a bit of a rush, coming after school in midtown. But we are meeting old friends here."

Susan Lin is also a devoted follower. Her 14-year-old son has been at BSNY since 2006, and her daughter Jennifer Levine, she of the arm in the sling, is in her fifth year. Lin said, "I had a chance to move at one point for my husband's work, but we decided to stay because of this school. I love it."

Byer is thrilled with the new location. "It's a very vibrant community. I hope the neighborhood will embrace us, that they will become part of our world as we will become part of theirs. That's the goal, to really be a part of this community." And, she added, "to become the downtown ballet company."

For more information about NYBS classes and NYTB upcoming performances, visit www.nytb.org.
Children/Students of the Ballet School NY (BSNY) Diana Byer, Founder & Artistic Director.
Photo © & courtesy of Richard Termine
---
Children/Students of the Ballet School NY (BSNY) Diana Byer, Founder & Artistic Director.
Photo © & courtesy of Richard Termine
---
Children/Students of the Ballet School NY (BSNY) Diana Byer, Founder & Artistic Director.
Photo © & courtesy of Richard Termine
---
Children/Students of the Ballet School NY (BSNY) Diana Byer, Founder & Artistic Director.
Photo © & courtesy of Richard Termine
---
Dancers in "Signatures 08 - A Celebration of Legends & Visionaries"; New York Theatre Ballet's 29th Season; Diana Byrer, Aristic Director & Christina Paolucci, Associate Director.
Photo © & courtesy of Richard Termine
---
Photo © & courtesy of Julieta Cervantes
---
Photo © & courtesy of Julieta Cervantes
---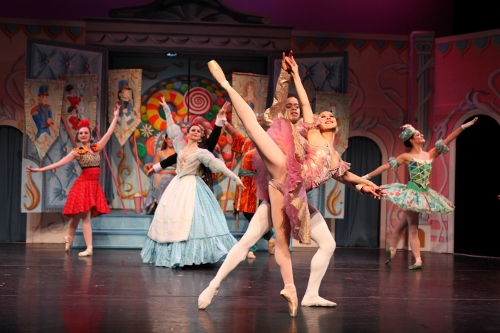 Photo © & courtesy of Julieta Cervantes
---
"Rondo" choreography by Jerome Robbins.
Photo © & courtesy of Darial Sneed