SYDNEY ushered in 2014 in typical Ozzie style – loud and boisterously – with an estimated $6.8M fireworks display dousing its most famous icons, the Sydney Harbour Bridge and Sydney Opera House in luminous showers of pyrotechnic wizardry. Undoubtedly epic, the display sparked off an array of performances within the city's inner precinct over the ensuing days.

CRANKED UP by Circus Oz is a mixed bag of tricks, presented at Tumbalong Park, nestled in the heart of Darling Harbour. Repeated calls for the audience to take their seats, is actively ignored by long queues of punters waiting to buy snacks and beverages. The house manager jokingly closes the curtain on us as we race in to take our seat, with pre show clown antics already underway.

The anticipation is interrupted by an awkward changeover to an Aboriginal elder, who observes customary protocol by offering (an obligatory) Welcome to Country. With the publicity slogan "From 42nd Street to Arnhem Land, Circus Oz returns to Sydney" and subsequent dignitaries speeches highlighting their 25th Anniversary and recent successful tours to the United States, there seems a concerted effort to "get it right", traversing a fine line of appropriateness and appropriation. A question "How many Aboriginal are in the audience tonight?" reveals the smallest smattering of raised hands amongst hordes of assembled and well-to-do looking guests.

And well - the show must go on – bypassing, ironically perhaps, the "real" circus.

Circus Oz chose to convey the image of construction workers as their main thematic backdrop. Perhaps a sense of Australian go- getter attitude, explorer mentality, self made-ness; a series of performative vignettes are loosely tied together by transitional set changes, a revolving musical band keeps energy levels high, and crowd pleasing group dances, mime, clowning comedy and acrobatic daring seeks to impress all.

Mason West, an all round acrobat impressed with his specialist skills on Chinese Pole and Rola Bola, by far the most risky and accomplished of the acts, a high degree of difficulty made to look relatively (but not) easy. The lithe Stevee Mills is a glorious whippet, who flips and tumbles, flies, clambers, climbs and steals her way into our favour.

An interesting dynamic in terms of indigenous representation is developing, as Dale Woodbridge became the first Aboriginal performer to join Circus Oz in 2012. In Cranked Up, indigenous actor/comedian Mark Sheppard is also added to the mix to play (dark) comic relief. It has to be said though, the image of this actor in a red oversized kangaroo outfit and a clown nose, brought unfortunate comparisons to Blackface stereotypes. A lack of articulation and volume in his speech (microphone?) added to the alienation.

The acts have elements of true daring, with risk equaled it seems by a number of dropped hat (juggling), other spills of apparatus (little balls) and what would have been a spectacular high wire had there not been a ledge to fall off on and resume (ok, she didn't die but still). We forgive their humanness but at the same time it's like seeing Mickey Mouse in street clothes. It has to be something set apart so that our imagination can soar vividly otherwise it is a let down.

It also seems that the pomp and circumstance of the set changes mask a little bit of narrative thread lacking. And by set changes I also mean the circus band - when the acrobats and jugglers and set movers end up playing trumpets and drums and other instruments, although impressive to consider their multi skills, you do wonder if they started off as musicians who were taught a few tricks or vice versa. Maybe that's part of the eclectic charm of Cranked Up that its a knock together, 2 by 4, held together with a bit of string, masking tape, a wing and a prayer?

Yes, the fun and games were as exciting as the New Years fireworks. Yet, as one local newspaper pointed out, the amount of money poured into the annual combustive spectacle could be used more effectively in Third World Nations for hunger relief. In the same way, is the pomp and circumstance of Circus Oz still relevant to today and what topical issues/challenges are yet to be risked?

Who doesn't love the Big Top though? Circuses have engaged and delighted audiences throughout time by playing on one of our most simple human desires – a quest for immortality – reminding us of our childhood, superhero caped crusades, as the performers make us believe we too can ably walk unassisted across a tiny rope suspended far above the floor, or come close to the mechanics of really flying, before (as the Icarus myth illustrates) an inevitable fall from Grace.
Circus Oz
Photo © & courtesy of Robert Blackburn
---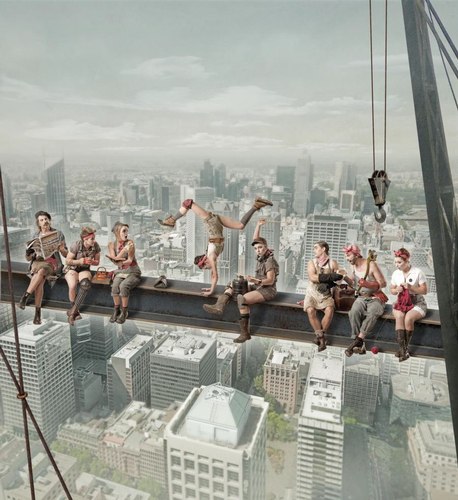 Circus Oz
Photo © & courtesy of Robert Blackburn