Challenged schedules sometimes yield great benefits. When I was assigned to cover the October 2 American Piano Association program featuring a guest appearance by Dance Kaleidoscope just when the Indianapolis School of Ballet Fall Pre-professional Dancers program was appearing at the Indianapolis Artsgarden, I was granted permission by ISB to attend a rehearsal the day before. Much as I anticipated the always thrilling performances by the young dancers in the open public space inviting passersby to stop, look and watch – or move on; being at a rehearsal proved a gift truly worthy of sharing.

In its sixth year, the Indianapolis School of Ballet is based on the Balanchine model with the expectation that you're part of this ongoing history and you're committed to an uplifting art form. These young dancers are indistinguishable from what one expects in a professional ballet company. They come with a positive attitude and fit body prepared to work. They honor each other and the person leading the class. They listen and watch and visibly incorporate every positive suggestion into their bones.

Founding artistic director Victoria Lyras is fully hands-on along with a roster of teachers. In class and in rehearsal Lyras observes each dancer, notes anything that might be amiss—she checks that a slight limp is not an injury, puts an arm around a dancer whose shoulders seem to sag, tilts her head in the direction of a dancer who is holding back and waits for an assuring 'it's ok' smile. There's a reality check: "Does everyone have enough food to go through the day?" Everyone knows they get personal attention. They're assured tender but strict caring. They're young and growing into their bodies, and they are encouraged to utilize their personal experiences to bring depth to the character they are dancing. They are invited to bring life into the studio and thus have "something to say" as they develop characterization.

At the outset of the rehearsal the dancers are asked to walk their way through Jupiter so the still photographer can get a sense of the choreography. Then it's dance it full out. Lyras catches every detail, showing a dancer exactly what is needed to mine Holst's intentions and to reveal the intellect, emotion, tension and release surging through the music. Torso lifting upward gives fullest dimension. Tilt of head conveys attitude. Dance is story so they're led to make all the engrossing elements clear, sharp and interactive. The audience is part of the story. Without words, no one should miss words—movement is the be all and end all.

All this flows naturally from Lyras' coaching dancers to move precisely with and through the music as discovery, never being anticipatory, never alluding to "watch me, I'm about to do something spectacular." Fluidity is this company's style whether it's toe or tap, modern or Broadway show. Full body placement is on the mark for the next combination. Showing how moving backward on full foot not on heel gives balance Lyras has the dancers absorb authentic Fosse—it's not in the style of Fosse, it's Fosse. And even in rehearsal the dancers tear up the studio space with his up-tempo "Crunchy Granola" from Dancin'.
They're equally full out for "Roaring 20's" with Andrea Bruce's tap dance choreography. The change of pace between the vigorous Jupiter and the witty Roaring 20s comes from the Act 3 ballet in the French version of Verdi's I Vespri Siciliani. "This comes from your soul" is Lyras' intent as a piece of drama within the greater drama of the opera.

Rehearsal is over. The photographer shares a particularly lovely moment she caught. The camera is passed around. Everyone applauds the photographer, then each other and lastly Ms Lyras. Visitors receive a bow and 'thank you.'

I'll miss the performance, but I walk away with an "insider" gift.

---


The Pre-Professional Dancers include:

Jupiter
Ashleigh Brower, Olivia Frieden, Maddie Johnstone, Regina Mack, Maria Maccaroni, Emma Mosley, Grace Phelps, Samantha Riester, Hannah Rosenfeld, Kaitlyn Vietor


I Vespri Siciliani
Luther DeMyer, Maddie Johnstone, Sarah Keifer, Emma Latz, Allison Shi, Dana Strauss, Annie Watson

Roaring 20's
Abigail Bixler, Nia Blanchard, Lyris Bonham, Luther DeMyer, Grace Freese, Katie Lauren James, Zoe Kashin, Emma Latz, Maggie Mahoney, Abby Marten, Allison Shi, Leilani Spurlock, Dana Strauss, Ryan Ward

Crunchy Granola
Ashleigh Brower, Luther DeMyer, Olivia Frieden, Maddie Johnstone, Sarah Keifer, Emma Latz, Regina Mack, Maria Maccaroni,
Emma Mosley, Samantha Riester, Hannah Rosenfeld, Allison Shi

More at http://www.indyballet.org
Indianapolis School of Ballet in Jupiter
Choreography by Victoria Lyras
Photo © & courtesy of Sonja Clark
---
Indianapolis School of Ballet in Jupiter
Choreography by Victoria Lyras
Photo © & courtesy of Sonja Clark
---
Indianapolis School of Ballet in I Vespri Siciliani
Choreography by Victoria Lyras
Photo © & courtesy of Sonja Clark
---
Indianapolis School of Ballet student Madeline Johnstone in I Vespri Siciliani
Choreography by Victoria Lyras
Photo © & courtesy of Sonja Clark
---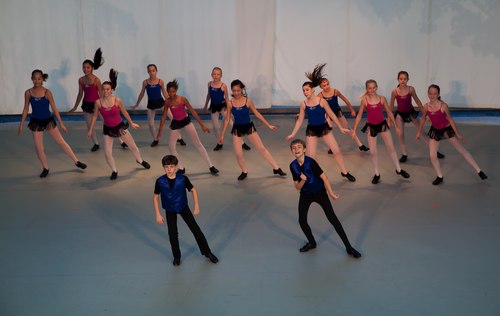 Indianapolis School of Ballet in the Roaring 20's
Choreography by Andrea Bruce
Photo © & courtesy of Sonja Clark
---
Indianapolis School of Ballet in the Roaring 20's
Choreography by Andrea Bruce
Photo © & courtesy of Sonja Clark
---
Indianapolis School of Ballet in Crunchy Granola
Choreography by Bob Fosse
Photo © & courtesy of Sonja Clark
---
Indianapolis School of Ballet in Crunchy Granola
Choreography by Bob Fosse
Photo © & courtesy of Sonja Clark
---
Indianapolis School of Ballet in Crunchy Granola
Choreography by Bob Fosse
Photo © & courtesy of Sonja Clark