This year, the Lester Horton Awards — honoring achievement in concert dance in Los Angeles — eschewed the formal ceremony and got right to the afterparty. The cream of the dance community gathered at RecCen Studios in Echo Park, a hip, loft-like space outfitted with a DJ, Asian appetizers, and a makeshift bar for the occasion.

There was much (and many) to celebrate. Posted on the walls throughout the room were pictures and profiles of the night's special awardees. The versatile Ron Brown was honored for Excellence in Teaching, and Carol Zee of Everybody Dance, which offers dance education to underserved children, was awarded for Service to Our Dance Community. Jamie Nichols, who has produced the lauded showcase Celebrate Dance for the past five years, received recognition for Furthering the Visibility of Dance (it's no accident that a good percentage of the evening's nominees and winners had previously appeared in her show). Though Celebrate Dance has previously won for Outstanding Production of a Festival or Series, this year that honor went to the L.A. Arts Commission for the "50th Annual L.A. County Holiday Celebration."

In between grazing, grooving, and fraternizing, those in attendance paused to hear individual and company awards announced from a loft staircase. The unflappable Marissa LaBog won Outstanding Achievement in Performance - Female for her work in "Really All About Eve" by Collage Dance Theater. Kevin Williamson of kDub Dance was awarded Outstanding Achievement Performance - Male for "Fruit."

As for company accomplishments, Viver Brasil won for Outstanding Achievement in World Dance with their earthy "Feet on the Ground/Aiye" entry. Bradley Michaud (who also executive produced the awards evening) walked away with the award for Outstanding Achievement in Choreography - Short Form for "violenti non fit injuria." Outstanding Achievement in Performance - Small Ensemble went to Keith Johnson/Dancers — comprised of Bahareh Ebrhimzadeh, Rogelio Lopez Garcia, Andrew Merrell and Jennifer Parr — for "The Presence of Absence," a piece inspired by the journals of deceased grunge rocker Kurt Cobain.

Davide Rousseve/Reality was the big winner of the evening with two of the top awards for "Saudade": Outstanding Achievement in Choreography - Long Form and Outstanding Achievement in Performance - Company. These awards must be especially sweet to Rousseve, for whom "Saudade" marked the return of his company after a 10-year hiatus.

In her acceptance speech for the Visibility of Dance award, which wrapped the evening, Jamie Nichols offered a twist on a quote from Henry David Thoreau, replacing "hear music" with "see dance": "When I see dance, I fear no danger. I am invulnerable. I see no foe. I am related to the earliest times, and to the latest." It was an appropriate coda to a night in which the dance community feted their strength, resilience, and ingenuity in an exceptionally difficult year for the arts.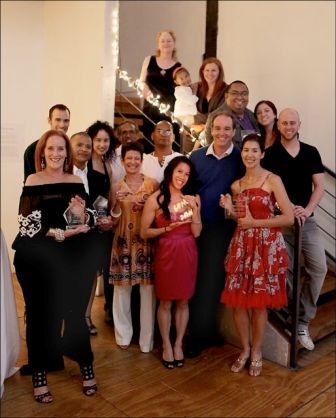 2010 Horton Award Winners
Photo © & courtesy of Chiabella James
---
Jamie Nichols accepts the award for Furthering the Visibility of Dance
Photo © & courtesy of Chiabella James
---
Carol Zee accepts the award for Service to Our Dance Community
Photo © & courtesy of Chiabella James
---
Ron Brown accepts the award for Excellence in Teaching
Photo © & courtesy of Chiabella James