When L'Angelus were playing and people were dancing, it felt like home. That's what the youthful Cajun and swamp pop group told promoter Laura Selikson at the end of their March 8 gig at Connolly's on West 45th Street. The Lafayette, Louisiana-based Rees family trio – two guitar-playing sisters and one fiddler-saxophone-lead singer brother – brought the house down, or rather had the house up and dancing to their high energy eclectic mix of Cajun swing and flowing waltzes.

"They told me that of all the events they've played all over the country, this most approximated what it felt like to be playing in Louisiana," said Selikson. "It was a very high compliment. They loved playing at Connolly's."

This mutual admiration in which southern bands and northern dancers commingle and complement (with an "e") each other should be no surprise to those who attend Selikson's rockin' Cajun and zydeco dance events. "At a time when most dancing in New York centers around swing and Latin, it's refreshing to attend the only regularly scheduled dance in Manhattan featuring Cajun and zydeco music," said Leon Mitrani. "I love the bands as well as the enthusiastic partners."

It all started with one pivotal moment fifteen years ago when Selikson, new to New York City, had her first encounter with Louisiana roots music at an East Village church, got hooked on it and never looked back. "I had never seen anything like it before," she recalled. She began going to the annual Cajun and zydeco festival in Escoheag, Rhode Island, became a volunteer and over the years, got to know the bands. "It turned out they could never play in New York because no one would book them. So I decided to start it," she said, laughing at her naiveté. "All I knew was how to dance, but somehow pulled it together." And as they say, the rest is history, or an abbreviated version of it, leaving out all the travails, twists and turns.

Selikson is the premier impresario of Cajun and zydeco entertainment in the Big Apple. The dance parties generally take place once or twice a month. Most of the bands she books are from the area where the music originated, way out in the country outside of Lafayette. Except for Buckwheat Zydeco, Selikson has presented all the major down-home superstars, including Grammy winners BeauSoleil with Michael Doucet; Nathan and the Zydeco Cha Chas, who played at her nonstop Mardi Gras fête; C.J. Chenier and the Red Hot Louisiana Band, the Valentine's Day group; Geno Delafose, the son of the deceased legendary John Delafose, who Selikson used to book; and Steve Riley and the Mamou Playboys, "mamou" being Cajun French for "mammoth."

For those unfamiliar with Cajun and zydeco, they are two indigenous musical forms that share a common language and landscape. Zydeco, French for "les haricots," pronounced "lay-zarico" (green beans), is Creole, the culture of rural blacks, mostly Catholic, who are descended from African and Caribbean slaves. Zydeco evolved from early Creole music in southwest Louisiana in the early 20th century and has integrated whatever music was popular, like waltzes, two-steps, rhythm and blues, soul, reggae, hip-hop, ska, rock and Afro-Caribbean beats. Typical instruments are the piano accordion, fiddle, drums, guitar, bass guitar and a metal washboard, worn like a vest, also known as a rub board, scrub board, or "frottoir."

The Cajuns have been an officially recognized national ethnic group since 1980. They comprise a large percentage of south Louisiana's population and neighboring parts of Texas. They are descendants of Acadian exiles (plus other ethnic groups they intermarried with), French-speaking Catholics who were kicked out of Canada (present-day Nova Scotia, New Brunswick, Prince Edward Island) by the Protestant English in the mid 18th century, and migrated to the French territory of Louisiana. Cajun music typically features a fiddle and accordion. Traditional Cajun and zydeco bands sing in a French dialect. But to attract wider audiences, both groups are singing more and more in English.

Cajun dances are the Cajun waltz, the Cajun two-step and the Cajun jitterbug. While the first two might be slow, elegant and straight upper body, zydeco is typically fast-tempoed and earthy, with lots of swiveling hips and fancy footwork. For this reason, the more sensual zydeco has eclipsed Cajun in popularity; thus, Cajun bands have incorporated zydeco rhythms into their repertoire. Both cultures converge in south Louisiana, with the city of Lafayette, about two hours west of New Orleans, as the official epicenter of Acadiana. French is indeed spoken here, as "Louisiane Toujours!" signs attest.

Selikson gives a one-hour dance lesson before each event, but even without much knowledge of the dance steps, people easily mix and mingle. "They are really fun events," said Selikson. "People change partners and ask people they don't know to dance. A number of my friends met their mates at the dances, found love and got married."

And Connolly's, near Times Square, is the perfect venue declared Selikson. "It is a beautiful restaurant with a great floor of sprung wood which was made for dancing, a rarity for a bar in the city," she stated. "It has a top-level sound system, a great reasonably priced dinner menu and a full bar. You can come to watch, come for dinner or dance. You can play out the evening however you want."

Or as they say in Bayou country, "Laissez les bons temps rouler." Let the good times roll.

Connolly's, 121 West 45th Street between Sixth and Broadway, 3rd floor. Telephone: 212-597-5126. Upcoming dances: Sunday, March 29, 7 pm – Dwight Carrier & the Zydeco Ro Dogs, $22; Saturday, April 18, 8 pm – Johnny Ace & Sidewalk Zydeco, $20; Saturday, May 2, 8 pm – Leroy Thomas & the Zydeco Roadrunners, $22. Dance lesson one hour prior to band. For additional information: www.LetsZydeco.com; zydecolaura@hotmail.com; or Laura: 212-685-7597.

The photos below are from several Let's Zydeco and Cajun parties.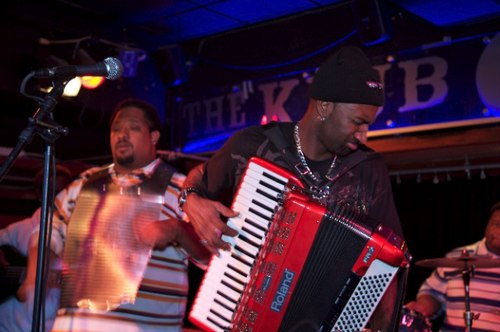 Curley Taylor & Zydeco Trouble
"Top Live Show in New York" ... TIME OUT NY
Photo © & courtesy of Steve Harris
---
Zydeco dancing
Photo © & courtesy of Steve Harris
---
Zydeco dancing
Photo © & courtesy of Steve Harris
---
Zydeco dancing
Photo © & courtesy of Steve Harris
---
Curley Taylor plays at Connolly's with his Louisiana Band Zydeco Trouble
Photo © & courtesy of Steve Harris
---
Zydeco dancing
Photo © & courtesy of Steve Harris
---
Joel Savoy plays the fiddle with his famous family
Photo © & courtesy of Steve Harris
---
Zydeco dancing
Photo © & courtesy of Steve Harris
---
Zydeco dancing
Photo © & courtesy of Steve Harris
---
Zydeco dancing
Photo © & courtesy of Steve Harris
---
The world renowned SAVOY CAJUN BAND playing at Connollys, with Cajun dancing in the forefront.
Photo © & courtesy of Steve Harris
---
Zydeco dancing
Photo © & courtesy of Steve Harris
---
CONNOLLY'S on 45th Street, near Times Square
Connolly's is a beautiful restaurant with a full bar,
top of the line sound system,
and an amazing sprung wooden dance floor —
one of the best in NYC — a floor made for dancers!
Photo © & courtesy of Steve Harris
---
Laura Selikson, promoter of LETS ZYDECO
with The Curley Taylor Band at Connolly's
Photo © & courtesy of Steve Harris