CENTRO CULTURAL BORGES
Viamonte y San Martín
Buenos Aires - Argentina
Teléfonos: 5555-5359
Web: http://www.ccborges.org.ar
Entrance: $ 35.00 – pesos Mondays and Saturdays - 8:00 pm

Idea, direction and choreography: Carina Pazzaglini
Dancers: Gloria Andreatta, Lisandro Eberle, Natalia Franchi, Hugo Mastrolorenzo, César Rojas, Liliana Toccacelli, Federico Vuegen

Carina Pazzaglini is a dancer and choreography with an impressive curriculum that spans over thirty-five years. She has worked with well-known ballet dancer Julio Bocca and Eleonora Cassano, modern dance choreographer Ana Maria Stekelmann, in the Ballet Nacional, el Ballet Estable del Teatro Colón, and the Ballet Estable del Teatro Colón and has choreographed over fifteen works and participated in nine international dance festivals.

In her latest work "Brazos y Abrazos" (Arms and Embraces) she presents a different type of tango show attempting to portray how in life the "arms" that hold us and the "embraces" we are given are not always what they seem or what we desire. It's about getting lost, being mixed-up, losing a loved one, ruptures, aggression and of course as always it's about passion and lovers and the rebirth of a lost love. It's an emotionally challenging work of art as it takes you through the phases of many types of love and many situations and stages that lovers of all sexual preferences pass through and experience interpreted through the steps of tango. It goes beyond the more typical tango show that portrays the brothel with the gaucho and prostitute dancing tango before contracting her services, the jealous lover that kills her in the end, and the tragedy of the entire situation in which these ordinary every-day people live. It's a very mature and well-choreographed tango show that portrays love and hate in real life in which we live today.
Photo © & courtesy of Natalie Laruccia
---
Photo © & courtesy of Natalie Laruccia
---
Photo © & courtesy of Natalie Laruccia
---
Photo © & courtesy of Natalie Laruccia
---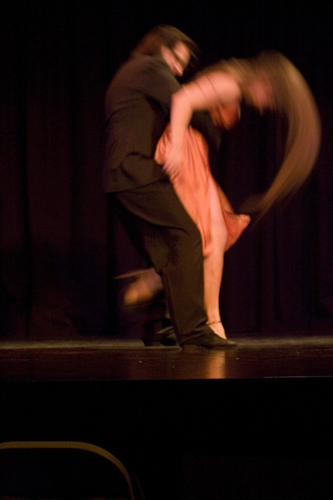 Photo © & courtesy of Natalie Laruccia
---
Photo © & courtesy of Natalie Laruccia
---
Photo © & courtesy of Natalie Laruccia
---
Photo © & courtesy of Natalie Laruccia
---
Photo © & courtesy of Natalie Laruccia
---
Photo © & courtesy of Natalie Laruccia
---
Photo © & courtesy of Natalie Laruccia