An exhilarating program of samba vocals and dances were performed by the dynamic 20-member Berço do Samba de São Mateus, in their first performance in United States.

Along with a battery of traditional percussion (pandeiro, atabaques, tân-tân, surdo, caixas, repique, berimbau), vocalists, and musicians (playing six and seven-string guitars, saxophone, and trombone), the group showed off its extensive repertoire of dances based on lundu, jongo and candomblé rituals, and songs dedicated to the orishas (African deities).

Clearly this was not just the modern samba that everyone associates with soccer, Carnaval, and Rio. This community-based group from São Mateus, the "cradle of samba" on the outskirts of São Paolo, has built a solid reputation for creating new work while maintaining the roots of old-style sambas, the kinds of sambas that stem from cultures hundreds of years old.
Berço do Samba de São Mateus
Photo © & courtesy of Jason Gardner
---
Berço do Samba de São Mateus
Photo © & courtesy of Jason Gardner
---
Berço do Samba de São Mateus
Photo © & courtesy of Jason Gardner
---
Berço do Samba de São Mateus
Photo © & courtesy of Jason Gardner
---
Berço do Samba de São Mateus
Photo © & courtesy of Jason Gardner
---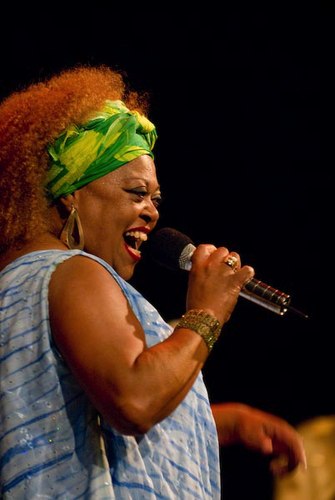 Berço do Samba de São Mateus
Photo © & courtesy of Jason Gardner