Before the curtain rose on the second annual installment of "Celebrate Dance," producer Jamie Nichols spoke to me about the fortuitous connections between the nine pieces in the evening's lineup. If the thrust of last year's program was contemporary, she explained, this year's was multicultural, offering up a melting pot of dances from Spain, Brazil, Africa, and Iran. She was thrilled with the message of cross-cultural understanding that arose from these works in a time of great misunderstanding and conflict on a global scale.

When the curtain did rise, multiculturalism was indeed the order of the evening, but this show was more than just a patchwork quilt of ethnic dances. A subtler theme of crossings between classical and modern emerged, linking the pieces aesthetically. Taken together, the nine dances Saturday night puzzled over how to modernize the classical, how to distill the classical from the modern, and how to marry the two.

Pat Taylor's Jazz Antiqua explored the roots of jazz dance in "Sankofa," which means "return and get it." Performed in three movements, the dance traveled from starless nights in Africa to slave gatherings at Congo Square in New Orleans—the birthplace of American jazz. Each segment added a new layer to the core West African gestures, until in the final segment—danced to a recitation of Langston Hughes' poem "Drums"—what we recognize as jazz materialized. The sound of wind blowing filled the pauses in the poem like a whisper from the past entreating us to remember. Dance has been called "history written on the body," and Taylor's piece made this abstract truth utterly tangible.

Moving in the opposite direction of Taylor, Albertossy Espinoza's Fusion Dance Theater sought to modernize flamenco in "Olé Gitano." Inspired by the tale of the Gypsy and his love of women, the ensemble included one man surrounded by five females with bare midriffs. Though there were flashes of feet pounding out Gypsy rhythm, this was a very fluid flamenco of shakes, shimmies, and body rolls. It was, in essence, flamenco danced to a club party beat rather than simply a wailing guitar. To modernize flamenco is an ambitious project, and though the piece was as entertaining as a Vegas spectacle, the recipe for blending modern and flamenco to create a compelling new fusion needs more tinkering.

Both Viver Brasil Dance Company and Djanbazian Dance Company were successful in updating traditional dances which honored women from Brazil and Iran, respectively. Anna Djanbazian presented Persian folk movements associated with feminine pursuits like daily shopping at the neighborhood bazaar and preparing the bride for her wedding ceremony. Viver Brasil paid tribute to Carnival queens with live percussion, transcendent Afro-Brazilian footwork and gesture, and an appearance by the always-exuberant singer Katia Moraes. Both companies reveled in traditional costume, which added another layer to modern interpretations of the traditional. In "Chador Zari," Djanbazian dancers covered their heads in gold scarves, while in "Tribute to Carnival Queens," the dancers donned loose dresses and head wraps in bright African patterns. Women in native costume are often looked upon by Westerners as "primitive" or somehow outside modernity, yet the dances challenged the audience to appreciate these folk expressions as thoroughly modern.

The remaining four pieces of the evening were true blends of the modern and the classical, sharing the common elements of unusual choreography, an artful aesthetic, and surprise. Viktor Kabaniaev & Dancers and Backhausdance—both standouts last year—returned this year with equally gripping work, though very different than their 2006 entries. Kabaniaev's "Largo" presented the theme of loss, in particular the grief of a mother losing her child in a war. The three dancers bathed in blue light cycled through the stages of grief at different intervals, alternately dispersing, convulsing, and coordinating. "Push," an intimate duet that explored the tension between opposition and support, was a departure for Jennifer Backhaus, who often presents lavish ensemble pieces.

Trip Dance Theatre's "Beneath the Water" dramatized the whale's struggle with sonar testing; dancers clad in floor-length turquoise gowns appeared to glide as if through water. San Pedro Ballet's "Ruckus" was like an exclamation point upon the evening, with dancers in Technicolor outfits romping to Mozart's "Symphony #35: Menuetto & Finale," a humorous intermingling of the modern and the classical.

The format of a variety showcase is a tricky gamble, but Celebrate Dance 2007 delivered both crowd-pleasing fare and a deeper—if unconscious—examination of how the past informs the present.

More Dance Photography by Tim Agler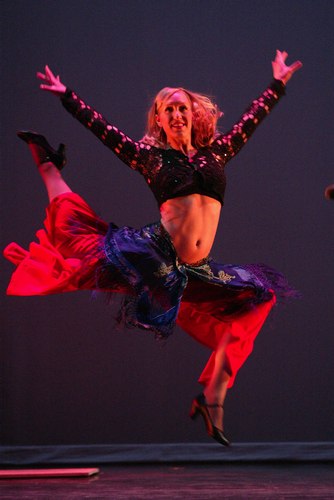 Fusion Dance Theater, "Ole Gitano"
Photo © & courtesy of Tim Agler
---
Djanbazian Dance Company, "Joy Lifted To Heaven"
Photo © & courtesy of Tim Agler
---
Djanbazian Dance Company, "Golden Veil"
Photo © & courtesy of Tim Agler
---
TRIP Dance Theatre, "Beneath the Water"
Photo © & courtesy of Tim Agler
---
Backhausdance, "Push"
Photo © & courtesy of Tim Agler
---
Viver Brasil Dance Company, "Tribute to Carnival Queens"
Photo © & courtesy of Tim Agler
---
Viktor Kabaniaev & Dancers, "Largo"
Photo © & courtesy of Tim Agler
---
Jazzantiqua Dance & Music Ensemble, "Sankofa"
Photo © & courtesy of Tim Agler
---
San Pedro City Ballet, "Ruckus"
Photo © & courtesy of Tim Agler