The new kid on the block, Chicago Children's Theatre, hits the half-pipe, wheels and floor when ISH, a performance troupe out of Amsterdam, slams onto the Harris Theater stage. "The name ISH comes from the suffix, '-ish', which is used to describe the indefinable," and after watching the video clip attached to the theatre's website, I'd have to agree.

Pulsating music that channels directly to the primordial dance center of the brain, makes it impossible not to move to the percussive beat that accompanies hip-hop and break dance, street, board and half-pipe skating, human beat-boxers, martial arts displays, and acrobatics.

Being "the fourth incarnation of the original performance (ISH)," 4-ISH is the maiden voyage presentation with an international flair for Chicago Children's Theatre, according to Artistic Director Jacqueline Russell.

If you're over six and crave the thrill of athletic dance and movement, snag your tickets to 4-ISH when they bring their extreme performance to the Harris Theater.

Check out the 4-ISH video!
4-ISH
Photo © & courtesy of ISH
---
4-ISH
Photo © & courtesy of ISH
---
4-ISH
Photo © & courtesy of ISH
---
4-ISH
Photo © & courtesy of ISH
---
4-ISH
Photo © & courtesy of ISH
---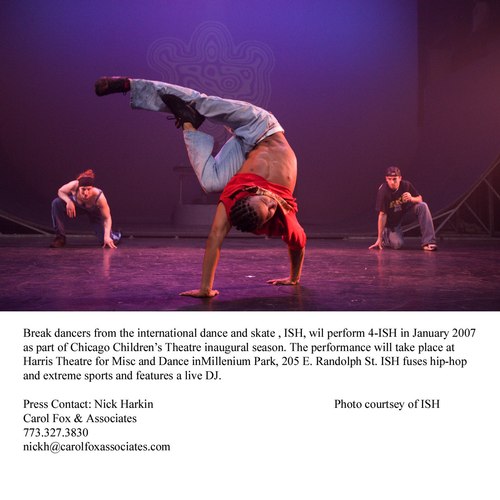 4-ISH
Photo © & courtesy of ISH