After writing my article, Big Moves: Size Acceptance in Dance, I was incredibly eager to attend Big Moves' first New York performance, Gargantua: Fear of a Fat Planet. And I was not alone – the show was completely sold out, including standing room.

This all-inclusive performance piece transported the audience to the planet Gargantua, a land where the inhabitants live in a society free of body image obsession and prejudice. After the reading of the Gargantuan Bill of Rights (proclaiming "Let us all eat cake!") and the singing of the Gargantuan Planetary Anthem, we were introduced to the Gargantuan way of life, which celebrates "enjoying your own skin" through feasting, singing, and dancing. Gargantua utilized a Nutcracker-esque plot: a "Dietron" attack was warded off, the galaxy was made a more tolerant and accepting place, and the Gargantuans celebrated. However, the roots of Gargantuan society are much deeper.

Held together by an original script written by Big Moves' founder Marina Wolf Ahmad, Gargantua was over-the-top and campy while simultaneously being socially poignant, exposing serious issues and prejudices regarding weight and body image. The use of humor to shed light upon fat discrimination was recurring and effective, bringing to light many problematic situations encountered daily by overweight women. In addition to the scripted dialogue, the audience was also treated to original poetry presented by spoken word artist Jaclyn Friedman. Her recitation of "Ode to Body," a love letter to the body, was especially empowering.

The "One-Ton Tango" – a parody of the "Cell Block Tango" from Chicago – was another standout number, which featured three dancers telling the stories of the discrimination they have faced as fat women - from the size of airplane seats, to parentally implemented diets, to being judged by the contents of their shopping cart at the grocery store.

Dancers from Caravan of Curves, Phat Fly Girls and Filling the Stage (some of Big Moves' performance groups) banded together for the show, providing confident dancing of Gargantuan proportions. Kim Parker's belly dancing was especially impressive, as her sharp core isolations blended seamlessly with the fluid and rhythmic clanging of her finger cymbals. Marina Wolf Ahmad's hip-hop solo, appropriately performed to "Bouncin' Back" by Mystikal, was sassy and strong. Although most of the choreography was relatively basic, we were given a few glimpses of more advanced movement. For example, "Trio F," a modern piece choreographed by Ariel Federow, incorporated floor work and several lifts.

The closing number, "Future Perfect," with dancers outfitted in white goddess-inspired tunics, left the audience with a beautiful and powerful image encapsulating the prevailing message of Gargantua: self-acceptance in the present moment, regardless of size.

Of course, the production was not flawless, but Big Moves has a solid foundation. Big Moves is new, and is still building its repertoire and training its dancers. But with the powerful message they deliver, the potential for Big Moves to be a big force in the future of dance is enormously present.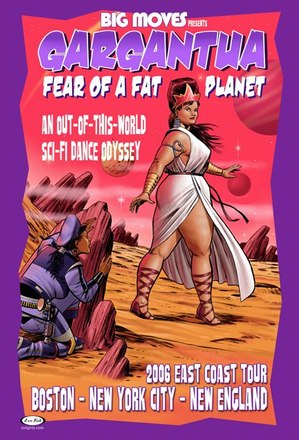 Photo © & courtesy of Big Moves